Every day is an adventure! In Questlings: The RPG, adventurers play the roles of young kids living in a suburban town, going about their day. But each kid has a fantasy inner hero – a heroic version of themselves to help surmount obstacles and fulfill their goals for the day. Your party builds their quests, then start on their epic campaign!
Questlings: the RPG is a companion to the Questling storybooks, and written in an approachable, accessible manner in order to introduce kids to role playing. The guide starts with the very basics – story building, set up, moderation, and in depth explanations of RPG staples like NPC (non player characters) and dice rolling. It also includes a fantastic section on safety in play including a system to teach kids how to set expectations and respect boundaries during game play.
The game includes a number of pre made resources (pre-gen characters, story, etc.) as well as sheets to make your own adventurers as well as a walkthrough on building your own story. I think this element struck me in particular – while the game is intended for kid players with an adult GM, the resources are such that a group of kids could walk through setting up a campaign of their own with just a little RPG player experience. Empowering, just like the books.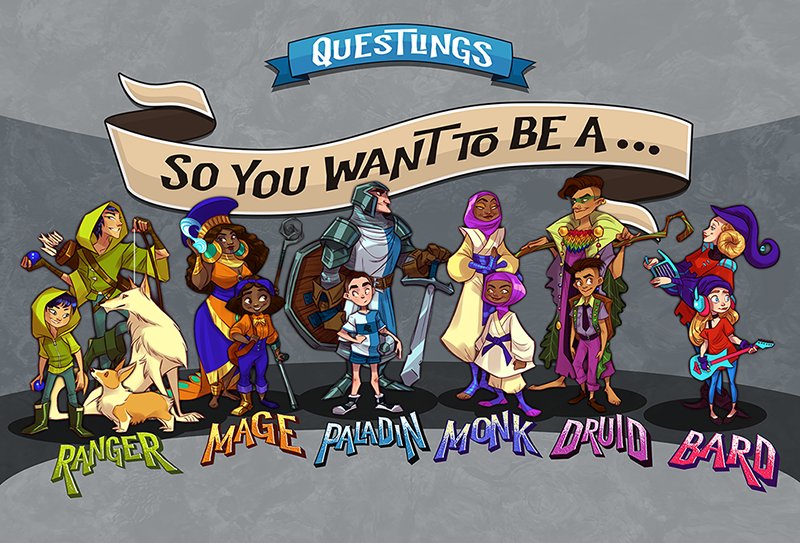 Beautifully illustrated, charmingly approachable, and thoroughly accessible, Questlings: The RPG is a brilliant introduction for new role players and a rollicking adventure for players young and old. Published by Letiman Games and Game and a Curry. The game and books launch on Kickstarter November 17th.